Marek Wajsman: "Just Observe"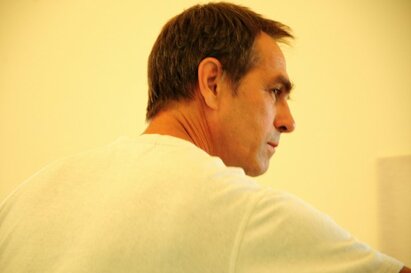 While traveling and visiting different yoga teachers around the world, we realized that many of them complement their personal yoga practice with other arts and traditions like Qigong, Tai Chi, meditation, etc. We have also met many martial arts teachers who use yogic techniques and meditation to enhance their own practice. It seems like it's a common thread among practitioners of body-mind related disciplines. 
Marek Wajsman, an Israeli Tai Chi teacher, is one of these teachers who clearly sees the value of different tools and traditions in widening his perspective on self-development methods. He has had unique opportunities to study with renowned masters in Japan, Taiwan, and the USA. In the interview below he shares his insights with TopYogis. 
TopYogis: Marek, tell us a little bit about yourself.
Marek Wajsman: After I finished my compulsory army training in Israel, I went to South Africa and I became very interested in a spiritual development.
To this day I have no idea why but this was something for me. Maybe I saw I was living in a very confused world and I wanted to make a little bit of sense out of it.
I got into transcendental meditation and then I met my first yoga teacher. She was an incredible lady. She was like 90 or 95 at that time and she was sitting straight, doing all the sun salutations and other yoga postures. She expanded on my meditation practice and taught me a lot. I needed to strengthen myself so I started doing training Kung-fu.
I did one style, then another and I kept on looking because I felt I needed to go much deeper. So I decided to travel. I couldn't go to China at the time so instead, I went to Japan.
While in Japan I started practicing Aikido and Tai chi and did some Vipassana meditation training. There I met Master Wang Fu Lai from Taiwan. And I went to Taiwan to study with him the Chen Pan Ling style. 
In Israel, Chen Pan Ling style is very popular so when I got back I was part of the school but after a while, our paths went in different directions.
In 1996, while in the US, I was introduced to Master Fong Ha. 
An amazing teacher and a giving person with very deep insights and understanding of Tai Chi. I invited him to Israel, and for the next twenty years, he was coming and teaching seminars and retreats.
TopYogis: What is it that you practice now for your own practice?
Marek Wajsman: I stopped practicing Aikido, some of my students took over the school. I am doing mainly Tai Chi, Qigong, standing meditation, some traditional weapons forms and two people sets.
TopYogis: What does this very diverse practice give you? Why do you continue to practice?
Marek Wajsman: I enjoy practice, it tunes up my body for the day. The attitude of Tai Chi, its principles and approaches are something very valuable that I want to incorporate into all aspects of my life.
Training regularly helped me recover from injuries. 
TopYogis: If there is an element of practice that you consider more important than any other - what would that be?
Marek Wajsman: It is a difficult question because I believe nothing comes without the other. The movement, the quietness, the feeling of extension and expansion, the endless flow - I love it. I train what feels right to me at the moment, that is what my body needs. 
TopYogis: If your student had only 15 minutes a day what would you recommend in terms of practice?
15 minutes is a very short time to practice, however it is a good start. Practice some quiet standing meditation, deeper work of the movement and practice the flow of the training form. Hopefully, with time you will fall in love with the art and practice more. 
TopYogis: Are there any specific types of practices that you like to start the day with?
Marek Wajsman: Standing or sitting meditation. I like to take it easy and build it up.
I start my day with standing or sitting meditation - take it easy and build it up.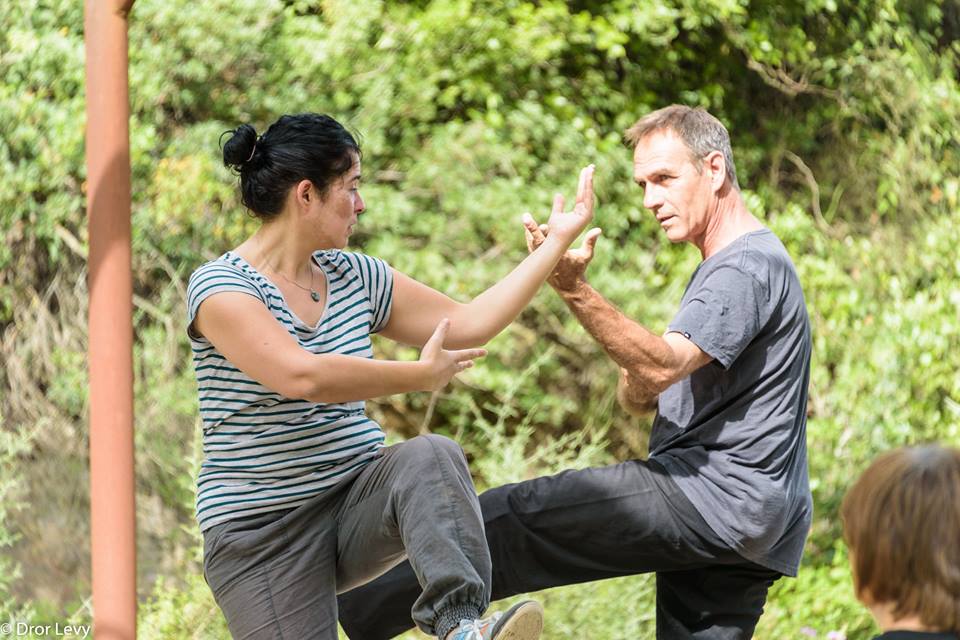 TopYogis: Do you have an everyday, personal practice?
Marek Wajsman: No, not every day. I have a newborn daughter now, so my time is limited but I try to do what I can. I feel we need to get in touch with ourselves and do what we feel we need to do.
TopYogis: In your Tai Chi and Qigong practice, did you experience any practice-related injuries?
Marek Wajsman: Oh, yes. My shoulders. I was training Aikido regularly, working with a very heavy sword, doing lots of standing meditation, and something happened to my shoulders. I injured my shoulder and could not lift my arm. I asked the Orthopedist for some exercise to help heal my injury. He said I should take medicine, injections because otherwise, I will get worse. I was not willing to accept this and decided to heal myself, so in addition to my Tai Chi and Qigong training,  I started yoga classes which I think is very complimentary for a Tai Chi or Qigong practitioner. Yoga can help open them up to stretch, extend and expand. That's why I am practicing the Yi Jin Jing  - muscle and tendon stretching Qigong classes.
TopYogis: Over the years, has your approach to practice changed and how?
Marek Wajsman: When I came to Japan I thought that I should practice as hard as possible, the Japanese way of Katana (Japanese sword) making - a long process of heating and pounding on a fine metal, folding and repeating that thousands of times. Until the sword becomes so refined so it can cut silk scarf landing on it.  
Over the years, as a result of this approach, I developed injuries etc. Fortunately, Master Fong Ha's approach was different. Softer. More attuned to what you need to do at the time. If you're tired, sit or rest. Then try again, slowly the internal energy builds up and makes you strong in more organic and natural way. 
Nowadays I work more with the internal Tai Chi principles rather than the external shape of the form etc. It's more important because it's more about experiencing the connection rather than learning forms. 
Over the years, my practice has become softer. More attuned to what you need to do at the time. If you're tired, sit or rest. Then try again, slowly the internal energy builds up and makes you strong in more organic and natural way. 
TopYogis: Since you practiced Vipassana meditation, don't you think there is a conflict between their approach to practice and Qigong approach?
Marek Wajsman: The Vipassana meditation is complementary to my practice. In general, I think that all the real things aim and meet at one point. 
TopYogis: In Vipassana we kind of try not to interfere, just observe, and in Qigong, we try to manipulate energy.
Marek Wajsman: Some Qigong practices do that. In my practice of standing meditation, I just observe and allow the energy "to do" the work of healing. If it is rising on its own, I notice it but do not interfere. It is more natural. I don't "do" anything.
TopYogis: Do you think yoga practitioners would have something to learn from Tai Chi or Qigong practices?
Marek Wajsman: I am sure about this. The endless flowing movement, the balance, the quietness. One has to try it to develop a taste for some subtle feelings that come from this kind of practice.
In my Qigong practice and in standing meditation I do not try to do anything, I just observe. If the energy is rising on its own I just notice and enjoy it. It is the natural way. As Sifu Fong said "Do nothing and achieve everything".
If you want to practice with this teacher, you can find him in his Martial Arts School in Giv`At Ye`Arim, Yerushalayim, Israel. If you have practiced with Marek and want to share your feedback, write a comment below.