Orientation in Rishikesh
When we look at the map of Rishikesh, we will see that it is a large city that stretches along the Ganga river. What the map shows us as the center of Rishikesh, is not our destination. Сenter of Rishikesh has several ashrams and yoga schools, but they are not very popular and very often are open only to Indians or specially invited persons. The center of Rishikesh is the center of business activity of Indian people, it has a market, and many small shops, it's more polluted, noisy, and much less pleasant than the ashram part of the Rishikesh. I have heard several stories of independent travelers who have come to Rishikesh bus station, walked around a bit, thought that this is how "the Rishikesh" looks like, and left on the next bus. So if you have come to the center of Rishikesh and you don't like it, don't panic until you see a place where most of the yogis live. We need to get to north-east part of the city marked on the map as Swargashram. 
If you have come to Rishikesh by bus, you can take rickshaw (otherwise called tuk-tuk) for 60 rupees (if it's private rickshaw) or 10 rupees (if it's shared rickshaw - other people are sitting inside) to get to Ram Jhula (first bridge) or Laxman Jhula (second bridge). 
The ashram part of Rishikesh marked on the map as Swargashram, is divided into several parts. 
Two big parts are named after the bridges, Ram Jhula and Laxman Jhula. The part to the south of Ram Jhula is also called Swarsharam (this narrow meaning of the name literary denotes territory belonging to Swargashram). There is also a part here called "the Village", which has particular interest for us due to the big number of guest houses and yoga schools there. 
The area of Lakshman Jhula is also divided into Laxman Jhula itself and Tapovan  - area on the western end of the bridge. Settlements higher that the Bardinath Road are called Upper Tapovan. 
These areas used to have their distinct features, but now, due to rapid development of Rishikesh, emergence of new schools and ashrams in every single part of the town, these distinctions start to disappear. Still, very generally one could say that Ram Jhula is a place with a big concentration of ashrams. Especially at the sunrise and sunset, from the both sides of the Ganga, the place is filled with sounds of bells, puja chants and mantra chanting recordings from the local shops. Lakshman Jhula also has ashrams, but it has particular reputation for a big number of restaurants, cafes, guesthouses, more active "night life" at certain times of the year. Tapovan, especially Upper Tapovan, is a rather quiet place, located on the Shivalik hills of Himalayas. It's a place for quiet practice and contact with the nature, though it's a bit remote from the places of "active rest". As I have already mentioned, with the rapid development of Rishikesh, new schools, cafes, restaurants and ashrams are being built everywhere, therefore these distinctions are becoming more vague.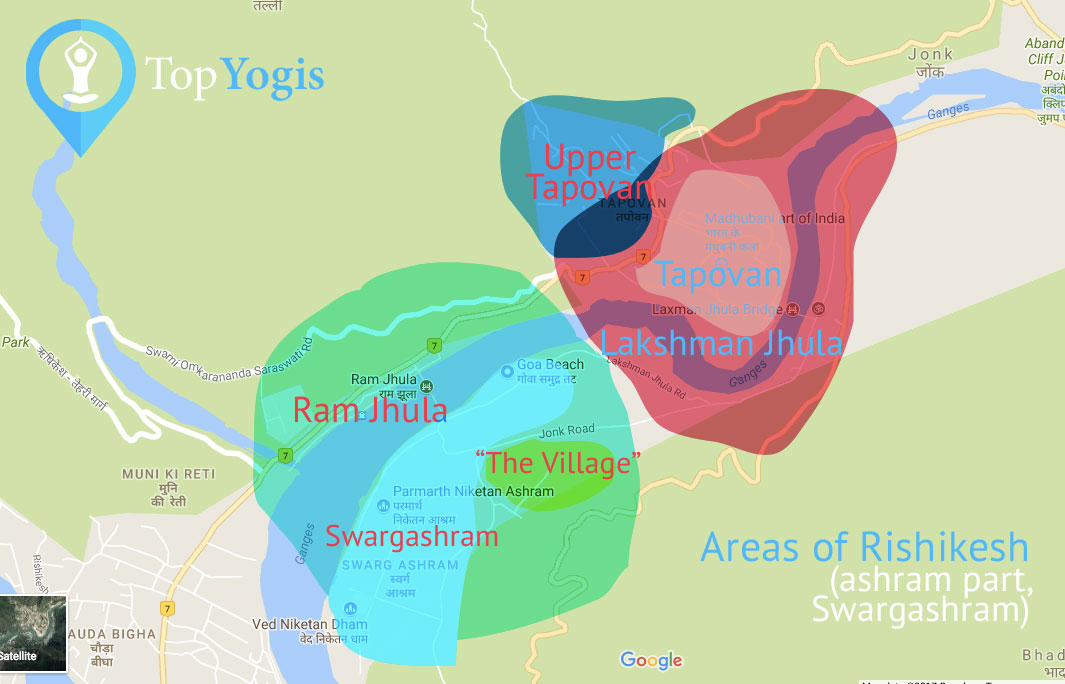 Teachers, studios and events of the city