Ashrams, hotels and guest houses of Rishikesh
Rishikesh offers several options of accommodation: ashrams, guest houses, and hotels. 
Ashrams
Ashrams in Indian tradition is a form of a monastery or hermitage, usually located in the mountains, forests or otherwise remote places. Ashram is not a monastery in a strict sense, as guests are allowed to live there alongside monks. Visitors can come and stay in the ashram for a certain time to meditate, study Vedas and other spiritual disciplines, practice solitude, yoga and other ascetics. Usually, an ashram has its guru, a spiritual teacher and leader of the monastic community. There are also gurukul ashrams, these are schools for children where they live, work and study Vedic disciplines. 
There are different kinds of ashrams in Rishikesh. There are ashrams that are closed to foreign visitors, and they accept only Hindu people living in India. There are several such ashrams in Ram Jhula behind Parmath Niketan. Shivananda ashram also creates an impression of a partially closed ashram. The ashram offers free accommodation, but it's available only to serious seekers who want to come there for a long time and get seriously involved in studies. One needs to apply for a stay and receive written permission to be admitted. Very often these applications are rejected. The ashram is, however, open to outside visitors of their free daily yoga and meditation classes. 
With these few exceptions, most of the ashrams are open for foreign tourists, and unless they host a special event with restricted participation, one can just go to the ashram and get a room there. Some ashrams have rooms that look like monastic caves, others have standards close to hotel accommodation. In many ashrams, you can also eat meals with the rest of guests, visit morning meditations, yoga classes, pujas, attend lectures of ashram's guru, which are called Satsangs. Traditionally, a Satsang is a talk that an enlightened person holds with his disciples, but in Rishikesh, practically every teacher gives you a Satsang, irrespective of his level of enlightenment. 
Many people have special expectations from their stay in an ashram. They imagine an ashram as a place where everything is soaked with spiritual practices, a place inhabited by exceptional wise men. A guru of an ashram is imagined as an enlightened person who will teach you all secrets of yoga. This is an idealized vision of an ashram as a spiritual abode and not all the ashrams in Rishikesh meet these standards quite entirely. There are many ashrams around Rishikesh (especially some in Laxman Jhula) that function more like exotic hotels than spiritual retreat places. They do not have disciples and monks living there, hence they don't have daily practices and Satsangs. There are some yoga classes, but very often, they are conducted on demand. Many such ashrams do not have canteen, and you will have to look for restaurants or other places for food or cook yourself.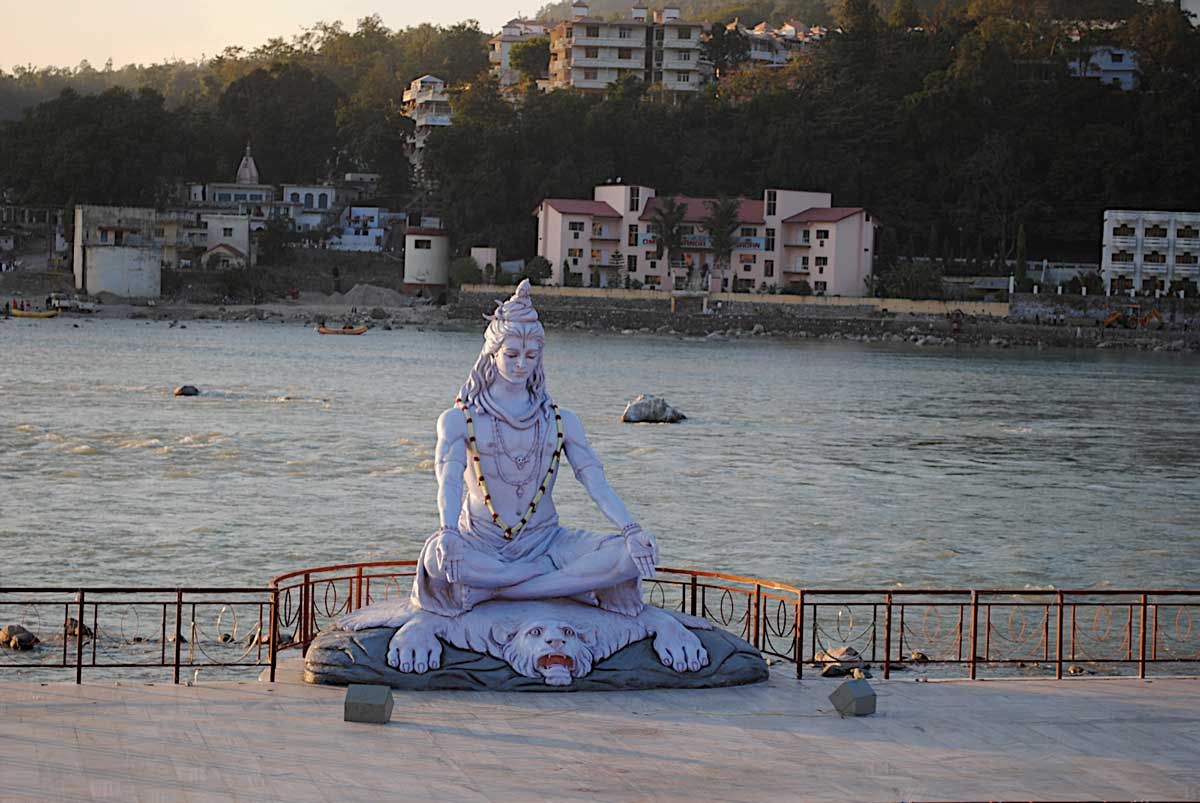 In the recent years, there emerged a number of new ashrams, that are more commercialized on one hand (because they target and cater to foreign tourists, especially yoga teacher training students), but one the other hand, these ashrams function closer to our vision of spiritual retreat place, since they conduct meditational practices, yoga classes, silent retreats, karma yoga and other organized activities that we expect to see in an ashram. 
Since ashrams are so different from one another, I advise to read descriptions and reviews on each ashram to have an idea about living conditions, practices, their guru, the spiritual community like monks and sadhus, and impressions of people who have lived there. 
Depending on living conditions, a room in ashram can cost from 100 rupees a day (cave-type level of comfort) to 1000-1500 rupees a day for a higher-end room. Usually the price of 1500 rupees a day will include meals and yoga classes in the ashram. 
Guest houses
Guest houses can be described as "family hotels". It is a house where (usually) the ground floor is inhabited by a family that owns the building, and the other floors are visitors' rooms. The quality of a guest house - cleanliness, spaciousness, facilities - is very individual and depends on the owner. Since Rishikesh is rapidly growing as tourist attraction, new guesthouses are built here everyday. 
In Ram Jhula area, you can find guest houses on the streets perpendicular to market street, behind big ashrams like Parmarth, and also in the Village. Laxman Jhula has guest houses practically everywhere. There are also a lot of guesthouses in Tapovan, particularly in the Upper Tapovan. Since the Upper Tapovan is somewhat remote from the rest of the Rishikesh, the higher you go up the mountain, the more affordable price you will get. 
The prices for rooms in guest houses depend greatly on their location and time of the year. Usually, they start at 200 rupees per night (if you plan to stay long time, you can bargain for even lower price), and peak somewhere between 700-1000 rupees per night in time of season and famous festivals. 
Hotels
There are not many hotels in Rishikesh, and oftentimes rooms there will cost more than a room of similar quality in a guest house. The cheapest rooms in a hotel will often be without windows (or its windows will face a wall of adjacent house standing in 10 cm from your window), so you will have a dark a humid room with poor air ventilation. The more comfortable rooms will be much more expensive, starting from about 1500 rupees. To my opinion, this is one of the least desirable options of accommodation in Rishikesh, not only because of priciness, but also because in a hotel, you will be a little bit disconnected from the "experience of India". 
If you came to Rishikesh to attend a teacher training course or retreat, you will most likely be staying in a guesthouse or an ashram. 
If you will look for your accommodation on your own once you're in Rishikesh, pay attention to the following:
You should have a window in your room. You need it for sunlight and for air circulation. If your window is overlooking a wall and you have to be with lights on all the time, very soon you will feel like you're living in a cave and will not want to spend too much time in it. Circulation of fresh air prevents the mold on your walls and ceilings, which is very important for your health. 
Your window should have anti-moscito net and protection from the monkeys. You will often want to open a window, and if you don't have any sort of bars on it, the monkeys will want to come and check your stuff. You might initially feel uncomfrtable with bars on your windows, and feel like they contradict fire safety principles, but monkeys happen in India much more frequently than fires. 
There should be no mold on the walls, ceiling and on your mattress. Spores of certain kinds of mold are toxic for humans, therefore you don't want to live in one room with them.
Under the mattress there should be no blood stains from blood-sucking bugs. 
Clean sheets are really rare in Indian guest houses and you will be lucky to find then in your room. If you don't, you can buy bed sheets on a market or in Lakshman Jhula stores for a couple hundred rupees. 
Private bathroom with hot water - if you don't go for the cheapest ashrams with shared bathrooms
It's preferable to have a padlock on your door, so that you can use your own lock. It's even better to bring your own lock to India, because Indian ones are really easy to open (generally).
Teachers, studios and events of the city